National Hospital Week 2021: Healthcare Leaders' Advocacy Guide
"A good leader in healthcare is one who aspires to become a great leader—one who views leadership as a verb, not just a noun. Good leaders are on a perpetual journey of practice, introspection, and adaptation."
Robert H. Malte, Clinical Associate Professor and Practitioner-in-Residence, University of Washington
This year's National Hospital Week takes place May 9-15, 2021. It marks a time to highlight the ways in which the country's hospitals, health systems, and healthcare workers are supporting the needs of their communities. It's also an opportunity to recognize the role and impact of healthcare leaders and reflect upon the evolving definitions of good leadership in healthcare. After a year spent under the Covid-19 pandemic, it's never been more important.
Healthcare leaders operate in a unique environment: its workforce is one of the most trained and certified in the world; its revenue structures are the most complex of any industry; and the pace of its technological innovations continually alter its fundamental production models.
This past year has included additional layers of complexity, due to the chaos of a pandemic and the logistical rollout of nationwide vaccinations. In healthcare, the stakes are always high. But within these concurrent crises, today's healthcare leaders are making changes that will transform healthcare for the better.
To learn more about what makes a good healthcare leader, what lessons have been learned by healthcare leaders during the Covid-19 pandemic, and which advocacy issues are most important in this field, read on.
Meet the Experts: Robert H. Malte and Kurt O'Brien
Robert H. Malte, MBA
Robert H. Malte is a clinical associate professor and practitioner-in-residence for the University of Washington's MHA program. His academic interests include strategy, leadership organizational systems, and governance.
Malte retired in 2018 as the CEO of EvergreenHealth, a top-ranked healthcare system, capping a 40-year management career to help teach the next generation of healthcare leaders. Malte earned his master's of business administration (MBA) from the University of Chicago.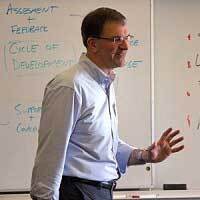 Kurt O'Brien, MHROD
Kurt O'Brien is an associate teaching professor with the University of Washington's MHA program. He specializes in leadership development and coaching, interpersonal skills development, team development, strategic planning, and conflict resolution. He also designs and conducts workshops on topics such as dialogue, emotional intelligence, conflict resolution, influencing change, and TeamSTEPPS.
O'Brien has a master of human resource and organizational development (MHROD) from the University of San Francisco.
The Characteristics of a Good Healthcare Leader
"A good leader in healthcare is one who aspires to become a great leader—one who views leadership as a verb, not just a noun," says Robert H. Malte, a clinical associate professor and practitioner-in-residence for the University of Washington's MHA program. "Good leaders are on a perpetual journey of practice, introspection, and adaptation."
"It comes back to being adaptable, but this is challenging without self-awareness combined with self-reflection," says Kurt O'Brien, an associate teaching professor with the University of Washington's MHA program. "Today's leaders need to be able to take a step back in order to view the situation from a new perspective. And then they need to engage with the people who will be doing the actual work to get their ideas and commitment to solving problems and making things better for patients and communities."
Lessons Learned from the Covid-19 Pandemic
Adaptation has been a crucial trait for healthcare leaders who, over the last year, have seen overcrowded hospital floors, an under-equipped healthcare workforce, and a tragic loss of life. Staff schedules have been shifted, professional roles have been adjusted, and new modes of care delivery such as telehealth have come into broader use.
While the Covid-19 pandemic was a crisis unlike any other in modern healthcare, it's proven a testament to both the adaptability of today's healthcare leaders and the utility of their fundamental principles.
"I think in many ways, the lessons learned from the Covid-19 pandemic, and this entire year, are the timeless lessons we've learned long ago," Malte says.
Those lessons include the need to build operational systems that can accommodate multiple scenarios and not just the status quo. The old adage of never letting a good crisis go to waste applies here as well: some healthcare leaders were able to circumvent the more onerous aspects of bureaucracy in order to implement positive policy changes that responded to individual emergencies. But the pandemic has also re-emphasized the importance of taking an empathetic and personalized approach to leadership, one which can zoom in as well as zoom out.
"It's important to regularly check in with people to see how they are doing, providing time to talk and blow off steam," O'Brien says. "One medical director I'm working with had done a really good job of this with his physician leaders by having an informal Zoom session once a month, after work, where they could just talk with each other and acknowledge their own struggles and challenges in dealing with the new realities of Covid-19."
Advocacy in Healthcare Leadership
Issues in the healthcare industry affect everyone in America and healthcare leaders have the added responsibility of advocating for the profession, for the provider, for the patient, and for more equitable policies.
"Putting patients in the center is always a priority," O'Brien says. "But I don't think it is quite so simple these days. Now the focus needs to be more on community health and population health, which means healthcare leaders need to be willing to look at entirely new ways of focusing on the health of communities and not just be reactionary. This means leaders must truly lean into the issues of health disparities and inequities, especially in tackling the issue of structural racism in healthcare and how it continues to influence our culture."
The American Hospital Association (AHA) identifies the following areas as key components of its advocacy agenda:
Supporting the fight against COVID-19
Advancing affordability in health care
Sustaining the gains in health coverage
Protecting patients' access to care
Advancing health system transformation
Enhancing quality, patient safety, and equity
Healthcare leaders will play a significant role in whether or not progress is made on those issues. But they won't be the only ones doing it. Positive change in the healthcare industry requires the combined efforts of many different stakeholders.
"We can only solve the challenges we face by working together toward a common goal and a common good based on an agreed-upon set of principles," Malte says.
"It's about generating engagement and ownership—bringing people together to talk and figure out new ideas for solving tough problems," O'Brien says.
Resources for Healthcare Leaders
To connect with the broader community of healthcare leaders, and learn more about the issues most discussed today, check out some of the resources below.
American Hospital Association (AHA): Founded in 1898, AHA is a national organization that represents and serves all types of hospitals, healthcare networks, and their patients and communities. Their advocacy efforts continue to address national health policy, legislative and regulatory debates, and judicial matters related to healthcare.
American College of Healthcare Executives (ACHE): For over 85 years, ACHE has been focused on advancing healthcare leaders and the field of healthcare leadership. Home to more than 48,000 members, they advocate for safety, diversity, inclusion, and excellence in healthcare leadership.
Journal of Healthcare Management (JHM): The official journal of ACHE, the bimonthly JHM is a peer-reviewed publication dedicated to providing healthcare leaders with the information they need to manage complex healthcare issues and make effective strategic decisions.